We are the commercial cleaning experts.
Welcome to ServiceMaster Clean of Peterborough
ServiceMaster of Peterborough is an industry leader in janitorial and commercial cleaning services. We offer a full range of cleaning solutions including, regular janitorial cleaning services, carpet cleaning, hard floor maintenance, upholstery cleaning, and workstation sanitizing. We also provide many specialty cleaning services to our customers such as post construction clean up, specialized healthcare facility cleaning, window washing, facility maintenance lawn care and snow removal.
We provide commercial cleaning services to a wide range of customers and facility types in Peterborough, Lindsay, Lakefield, Millbrook, and the Kawartha Lakes area.
ServiceMaster of Peterborough has highly trained, and experienced staff that understand how to meet your needs. Along with ServiceMaster Clean's Green For® cleaning products, and Capture and Removal Cleaning system, the ServiceMaster complete cleaning system can't be beat!
At ServiceMaster of Peterborough, we take great pride in providing personalized service to our customers. We believe that being visible to our customers promotes better communication and extraordinary results!
PREVENTATIVE CLEANING AND DISINFECTION SERVICES
For years, ServiceMaster Clean of Peterborough have been the experts in creating clean, safe and healthy workplace environments. Our experience and training afford us the ability to promote safe practices for infection prevention within all businesses.
In these unprecedented times, we are ready to respond with effective and customizable solutions. ServiceMaster Clean of Peterborough provides a full range of cleaning and disinfection services that will help to keep your workplace healthy and productive.
GET A FREE ASSESSMENT
COVID-19 FAQs
What is an emerging infectious disease?
The Centers for Disease Control and Prevention (CDC) defines infectious diseases as "illnesses caused by germs (such as bacteria, viruses, and fungi) that enter the body, multiply, and cause an infection." Depending on the disease, there are different ways that it can be spread:
From one person to another
Through germs carried in air, water, food, or soil
By insects, ticks, or animals
Emerging diseases are infections that have increased recently or are threatening to increase in the near future. These infections could be
Newly discovered
Completely new to an area
Reappearing in an area
Caused by bacteria that have become resistant to antibiotics
Source - https://www.cdc.gov/ncezid/who-we-are/about-our-name.html
MORE COVID-19 FAQS
News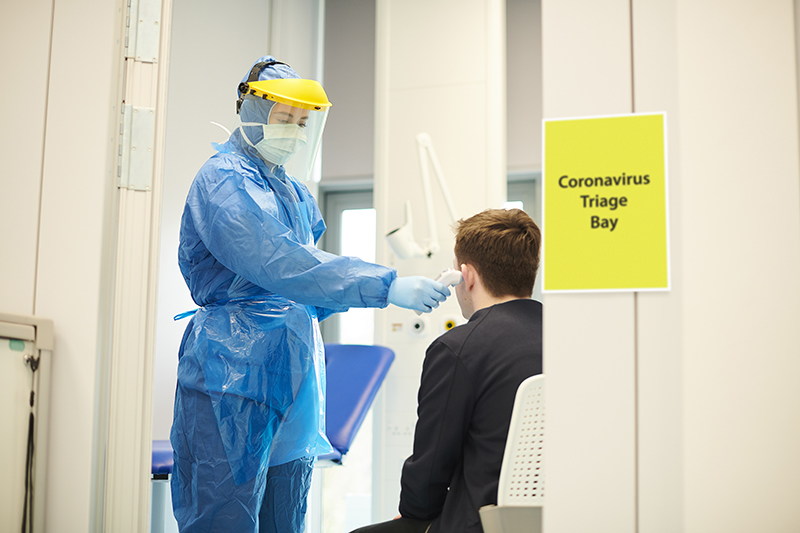 EPIDEMIOLOGY: THE BASIC SCIENCE OF PUBLIC HEALTH
Lately, people may have heard references to the term epidemiology. So, what exactly is that? According to the Merriam-Webster dictionary, epidemiology is "a branch of medical science that deals with the incidence, distribution, and control of disease in a population". While doctors and clinicians deal with the effects of disease within a single person, i.e. they work one-on-one with patients to diagnose problems and determine what can be done to make them healthier, epidemiologists are concerned with how diseases affect society as a whole.
ServiceMaster Clean of Peterborough
56 Carlinds Drive
Whitby, ON, L1R 3B9
Tel: 855-917-1688
Email: richard@smdurham.com
About Us
Your cleaning and Commercial Specialists ServiceMaster of Peterborough Janitorial and Commercial services is your one stop spot for all your cleaning needs. If you need office cleaning, hard floor maintenance, post construction clean up, carpet and upholstery cleaning, specialized healt
Commercial cleaning services to suit every budget. Our plans start as low as $250 per month - whether you need daily janitorial office cleaning, commercial carpet cleaning or specialty commercial cleaning. Depending on your specific requirements, we will work with you to develop a plan that suits your needs, and your budget.
Guaranteed Service
No other vendor offers the quality of service and degree of commitment as consistently or as affordably as ServiceMaster Clean. We are so confident in our performance, we guarantee it!
Our expertise, dedication and value-added services make us the best commercial cleaning choice for your business.
Get A Free Assessment